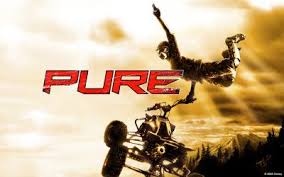 Hey This is bubble Berry.
Game Itself
Pure is a ATV Racing Game Fueled with Breathtaking maps and Gravity-Defying Tricks. When you First start the game it will place you in a tutorial to Ready you for the True Events. The gameplay is just good the Trick mechanics are Good for the most part. There are no major Glitches that I have come across (Yet).
Multiplayer
You can play online with up to 15 other players Threw either Psn,Xboxlive,Pc. The multiplayer For some will be laggy just like any game but overall
You and your Friends having that Fierce Competitive Race on whos gunna take the last piece Of cake is Something that Lagg cant beat
Characters
there are a total of 6 characters that you can use
Todd Andrews
Suzi Andrews
Clayton Wade
Takeshi Yukio
Jay Valdes
Rosa Juarez
plus a unlockable character
Brett Taylor

Game Modes
Freestyle: Perform and combo as many tricks as they can before running out of gas. In the end, the player with the highest score wins.
Sprint: Short races over 5 laps. These come with only one or two jumps and many hard turns, making it important to time the jumps and turns.
Race: Longer races over 3 laps. These have loads of turns, loads of vertigo-inducing jumps. The player has to stay on top of the chart and keep pulling fresh tricks to win.
Opinion
I think the game is good. the graphics are Really Great the Maps are Just To Beautiful. I Recommend this to people if you happen to find it in stores buy it its not a waste I am sure you will like the game
overall Score
Five stars
*****